The grid is changing
The entire energy ecosystem is being reshaped, impacting the electricity market and the ageing in a profound and irreversible manner.
Electricity grids globally are facing unprecedented and rapid changes driven by four macro-trends, known as the 4D's
Amp X was created to address the key challenges associated with the Energy Transition.
Key Challenges of the Energy Transition
caused by increased distributed energy resources (DERs) at the edge of the grid.
Voltage Instability
The rise of DERs has created two-way power flows at the edge of the grid. This causes congestions and voltage instabilities, a primary concern for network operators.
Frequency & Inertia
Large spinning reserves are replaced by variable, intermittent, non-dispatchable renewables, while large dynamic loads (e.g. EVs) increase. Balancing of demand-response becomes much more complex. This causes frequency instabilities and lack of inertia.
Infrastructure costs
Centralized grid upgrade/ reinforcement costs to meet increased demand & electrification of heat & transport sectors. A decentralized & decarbonized generation model, with non-wire alternatives (NWAs) with grid architecture allowing grid resilience and stability, will ultimately be economically advantageous.
Grid Resilience
Extreme weather conditions (i.e. hurricanes, floods, wildfires), increase the likelihood of blackouts. Local resilience of the electricity grid in the face of climate chaos is increasingly needed.
The Amp X Platform Accelerates the Energy Transition through a Portfolio of Disruptive Technologies: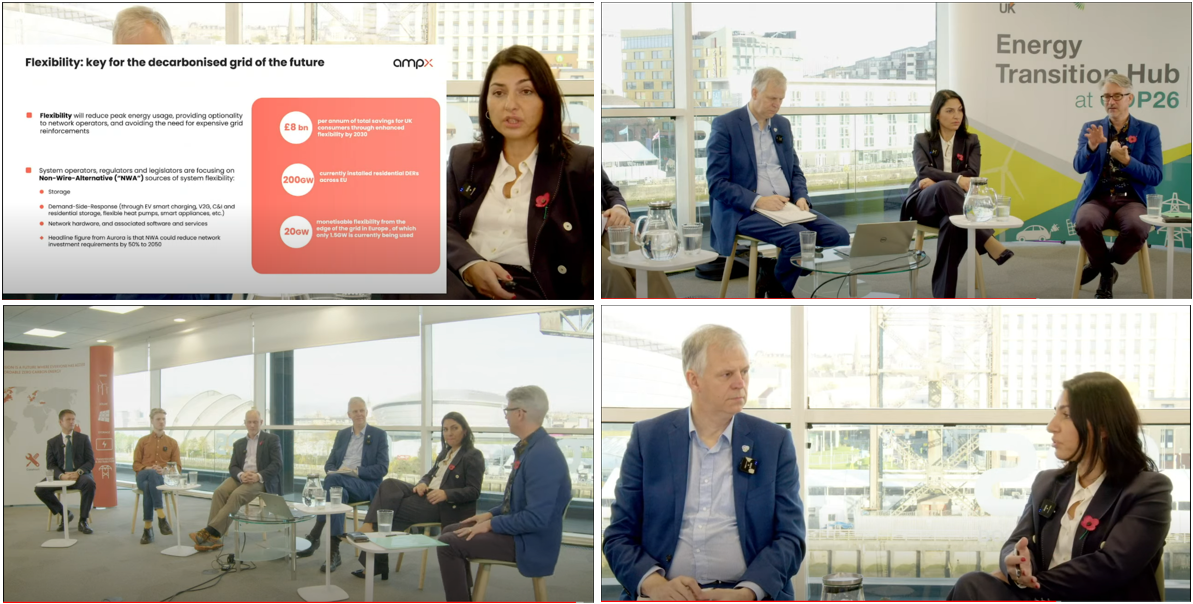 Amp X at COP26
Our Head of Amp X, Dr. Irene Di Martino, attended the United Nations' climate conference COP26 in Glasgow, Scotland for a roundtable discussion on the role of flexibility in a decarbonized grid. Our differentiated and innovative approach towards the energy transition is on full display in this powerful video.
Interested but short on time? Irene gives a great overview of the Amp X platform at 14:00 and her point of view on the implementation of the Smart Tx at 1:18.
Watch: Amp X's proprietary Digital Energy Assistant, Alice, was trialed in homes across the UK with Energy Systems Catapult. It enables user-centric participation in Demand Side Management (DSM).
Delivering demand-side flexibility at scale from behind-the-meter consumers will be a game-changing innovation - reducing costs and carbon impact of residential and C&I energy use, providing suppliers with a way to manage their price and volume risks, and enabling network companies to plan and operate their infrastructure more efficiently.